RTX 4090 Australia
RTX4090 - If you want to buy a gaming PC in Australia with a GeForce RTX4090 gaming Graphics Card form nVidia, then this RTX 4090 GAMING PC is ideal for you. Great for fast Gaming, High end CAD or Video Editing.  Latest Intel 13th Generation i7 13700K (F) CPU with the option to upgrade to 13900K CPU.
With Super-fast nVidia GeForce RTX 4090 gaming graphics card, this is the perfect RTX4090 Gaming computer for those who want a whole lot more from their desktop gaming PC.
Have a look at full specs buy below or you can get an instant quote by clicking on the CUSTOMISE AND BUY button above.
We offer free and fast fully insured shipping of this RTX4090 Gaming Computer to most of Australia including suburbs in Queensland (QLD), New South Wales (NSW), South Australia (SA), Australian Capital Territory (ACT, Tasmania (TAS), Western Australia (WA). If you are not sure if you qualify for free shipping, simply call us and we will let you know.
CPU
Intel Core i7 13700K (F) CPU, 16 Cores, up to 5.40 GHz
While other PC shops use the old 12th generation i7 CPU, our RTX 4090 Gaming PC is powered by the latest Intel 13th gen i7 CPU.
Show More
This i7 13700K (F) CPU has 16 Cores and 24 Threads (8 Performance Cores and 8 Efficient Cores)
With an increase in core count, these 13th gen processors continue to utilize Intel's performance hybrid architecture to optimize your gaming, content creation, and productivity. Enjoy your favorited experiences in up to 4 simultaneous 4K60 displays or up to 8K60 HDR Video with dynamic noise suppression. Whether you are working, streaming, gaming, or creating, the 13th Gen Intel® Core™ desktop processors deliver the next generation of breakthrough performance.
Performance Cores - The highest-performing CPU core ever built by Intel, designed to handle single-threaded, lightly threaded, or burst workloads like 4K gaming and 3D design.
Efficient Core - Designed to handle multi-threaded and background tasks such as minimized browser tabs, IT services, and cloud syncing, leaving P-cores free to deliver incredible performance without interruption.
Intel 13th gen i7 CPU & an RTX 4090 GeForce card makes a great Gaming PC for most AAA-rated games.
CPU
Upgrade Option Intel 13th Gen 19 13900K /f or i9 13900K
Show More
This RTX4090 Gaming desktop has the option of either the i9 13900K (F) or the i9 13900K CPU.
The 13th Gen Intel® Core i9 desktop processors deliver the next generation of breakthrough core performance. Now with up to 24 cores (8 Performance-cores and 16 Efficient-cores) and up to 32 threads, plus Performance-cores are capable of reaching 5.8 GHz6 with Intel® Thermal Velocity Boost to elevate performance. Intel® Turbo Boost Max Technology 3.07 further strengthens lightly threaded performance by identifying the best-performing Performance-cores. Meanwhile, additional E-cores enable an increase in Intel® Smart Cache (L3) for more efficient processing of larger data sets and better performance. The P-core and E-core L2 cache has also increased compared to the previous generation of Intel® processors, minimizing the amount of time spent swapping data between cache and memory to speed up your workflow. Unleash the power of next-level performance with the 13th Gen Intel® Core™ desktop processor advantage. 
If you are doing content creation such as video editing, photo editing or gaming on YouTube, then the i9 13900K CPU is highly recommended.
Motherboard
ASUS TUF Gaming Motherboard with Intel 700 Series Chipset.
While most other computer shops in Australia will use a standard motherboards for their computer builds, we use the ASUS TUF Gaming motherboards.
Show More
ASUS TUF Motherboard distils the essential elements of the latest Intel platform and combines them with features and proven durability. Engineered with military-grade components, upgraded power solutions and a comprehensive set of cooling options, these motherboards deliver rock-solid performance with unwavering gaming stability.
We use ASUS motherboards on our Gaming PCs. 8000+ validation hours – Extensive testing for extreme reliability, compatibility and safety. ASUS motherboards guard your RTX4090 Gaming PC with 5X Protection. We use quality components like DIGI+ VRM digital power design for precise CPU power on demand, ESD units tested to strict standards that eliminate electrostatic interference, and resettable fuses around DRAM slots to prevent overcurrent and short-circuit damage. We also use corrosion-resistant back I/O shields, all examples of ASUS providing the best possible reliability and durability for your RTX 4090 computer.
ASUS is the world's biggest motherboard manufacturer, and is renowned for its design thinking that revolves around users – just like you. Their engineers employ exacting standards to guarantee quality throughout the product's life, choosing the finest components for real-world protection. ASUS Gaming PC motherboards are proven to be compatible with more than 1,000 components and devices and undergo a minimum of 8,000 hours of strict validation. That gives you the peace of mind of knowing that ASUS Gaming computer motherboards are fit for all environments and applications. To build your Gaming PC with the best foundations, build it with an ASUS Gaming computer motherboard.
RAM
32GB Dual Channel Gaming RAM with Heatsink.
Show More
With Dual Channel RAM, the data path is doubled by using two sticks of memory. By giving the CPU/northbridge another data path to the memory, bandwidth is effectively doubled. In simple terms, think of Dual Channel DDR as widening the bridge by adding two more lanes. This effectively allows more data to travel faster; much like traffic moving faster when there're more lanes to drive in.
We use A-Grade RAM in all our gaming computers such as G.SKILL, Crucial, Corsair and Kingston.
SSD Drive
1024GB Solid State Drive M.2 (Gen 4) (SSD)
Show More
While other PC manufacturers use standard SSDs on their RTX 4090 desktop computers, we use Super Fast Kingston KC3000 NVME SSDs. These SSDs are amongst the fastest SSDs in the market today with exceptional reliability.
fast RTX 4090 gaming computers need speed and reliability. No moving parts results in a quiet, cool, highly-rugged solution that offers up to 45x faster system responsiveness than traditional hard disk drives. Boot time, application launches, file loads, sleep recovery, benchmarks; each activity is faster. Low power consumption & up-to 100% longer life. From running a virus scan to rendering video clips - everything is faster with a SSD.
Graphics
24GB nVidia GeForce RTX 4090
Show More
The NVIDIA® GeForce RTX® 4090 is the ultimate GeForce GPU. It brings an enormous leap in performance, efficiency, and AI-powered graphics. Experience ultra-high performance gaming, incredibly detailed virtual worlds, unprecedented productivity, and new ways to create. It's powered by the NVIDIA Ada Lovelace architecture and comes with 24GB of G6X memory to deliver the ultimate experience for gamers and creators.
We source our RTX4090 gaming cards from ASUS, Gigabyte and MSI.
Operating System
Microsoft Windows 10 Home or Windows 11 Home
Show More
- Fully Installed and updated
- Latest drivers installed
- Windows 10 Professional Option
- Windows 11 Home Option
- Windows 11 Professional Option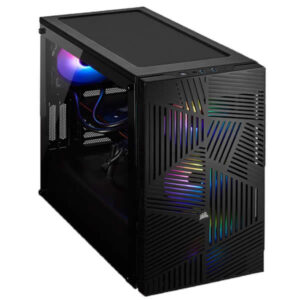 High Air-Flow Gaming Case
High Air-Flow Gaming Case
Show More
Gaming Case (option of either Black or White)
Gaming case that pairs modern design with maximum airflow, thanks to a slatted front panel and a single tempered glass window.
A stylish, slatted front panel design provides ample airflow into your system for more efficient cooling and a uniquely elegant look and feel.
An obstruction-free layout channels cool air directly from the slatted front panel to your PC's hottest components – and back out again – for efficient cooling.
Dust filters for easy cleaning
* please state on comments sections on the order form which colour case you require.
Show More
Please see upgrade price by clicking on the CUSTOMISE & BUY button.
Arm your battle station – This multi-award winning ASUS TUF Gaming case is designed to be noticed: Metal front panel with custom TUF Gaming spatter pattern, and 4mm-thick, smoked, tempered-glass side panel to showcase your build's internals.
Mobile battle station: Ergonomic, woven-cotton carry handles enable easy and safe transport up to 30Kg.
With a full-height, smoked-glass side panel, this gaming case lets you show off your build from top to bottom – so your components, customizations and Aura illuminations are all clearly visible. This panel is tempered for strength, and hinged at the bottom for opening ease.
Removable dust filters effectively prevent airborne particulates from entering TUF Gaming GT501, keeping your system's internals looking as good as new for longer. The top and front filter are magnetic for a tight seal, and quick removal and cleaning, while the lower dust-trap is easily slid in and out to enable fast maintenance.

CPU Cooler
High Performance CPU Air Cooler
Show More
This high performance Air Cooler provides the same level of cooling as a liquid cooling unit. Most people prefer Air Coolers compared to Liquid Coolers.
To achieve ultra-high-efficiency cooling performance, this cooler has upgraded the heatsink with the latest 0.5 mm fins with 4 integrated sintered metal powder heat pipes to directly remove heat from your prized CPU.
CPU Cooler
ASUS TUF 240mm Liquid Cooler
Show More
see upgrade price by clicking on the CUSTOMISE & BUY BUTTON
- Liquid Cooling / Water cooling for CPU
- CPU runs much cooler
- Reduction in noise
- Higher reliability
- A must for fast gaming computers
- Factory Sealed so no leakage
- Zero Maintenance - no refilling required
- Reinforced, sleeved tubing for increased durability
- TUF Gaming radiator fans with fan blade groove design for optimized airflow and reduce fan noise.
This ASUS TUF cooler is an extreme performance liquid CPU cooler that packs dual 120mm fans and a 240mm radiator into a simple, no-fuss package.
240MM HIGH-DENSITY RADIATOR
Experience lower CPU temperatures with a 240mm high-density radiator for maximum cooling surface area and performance.
* ASUS TUF GAMING Case is required for this liquid cooler.
Power Supply
850 Watt ASUS TUF Gaming Power Supply Unit
Show More
The RTX 4090 is a high performance graphics card and it need a good high end PSU to power it. The TUF Gaming 850W Gold is an efficient, resilient and dependable PSU that's engineered for the long haul and ideal for the RTX 4090.
The ASUS TUF Gaming 1000W Gold packs military-grade strength, a flagship fan design, and PCB protection for efficient, durable power delivery. The result is a PSU that will reliably fuel your rig for years to come.​ With military-grade components, including capacitors rated for 105°C operation and up to 170,000 hours' lifespan, the ASUS TUF Gaming 1000W Gold empowers you to build in confidence.​
Capacitors and chokes pass demanding tests to achieve Military-grade Certification.
Dual ball fan bearings can last up to twice as long as sleeve bearing designs.
A protective PCB coating protects against moisture, dust, and extreme temperatures.
An 80 Plus Gold Certification is the result of Japanese capacitors and other premium components.
Axial-tech fan design features a smaller fan hub that facilitates longer blades and a barrier ring that increases downward air pressure.
Fully modular etched cables keep your rig neat and tidy.
ADVANCED MODULAR CABLE – The advanced modular cable management is further improved by utilizing new flat cables that simplify installation as well as reduce air friction in order to maximize airflow. This gives gamers the power they need and the flexibility of easy upgrades they demand.
ACTIVE POWER FACTOR CORRECTION (ACTIVE PFC) – PF value up to 99%, provides clean and reliable power
ULTRA-QUIET & TEMPERATURE-CONTROLLED FAN – Temperature-controlled design adapts its rotating speed to the PSU temperature. Even on its highest rotating level, the fan is still quiet enough to be barely noticeable
UVP (Under-voltage protection) – If the voltages fall below a certain tolerance value on the single lines, the PSU automatically switches off.
OVP (Over-voltage protection) – If the voltages increase above a certain tolerance value on the single lines, the PSU automatically switches off.
SCP (Short-circuit protection) – In the case of a short-circuit this feature prevents damage to the core components of the PSU and its system components.
OPP (Overload protection) – If the system is oversized and requires more power from the PSU than it can perform, this protection function is activated.
OCP (Over-current protection) – If the load on a single line is higher than indicated, the PSU automatically switches off.
OTP (Over-temperature protection) – If the temperature is too high, the PSU automatically switches off.
28th Anniversary Special Offer
On November 2nd, we celebrated our 28th Anniversary. Supertech Computers has been supplying high quality gaming computers in Australia for over 28 years. To celebrate our 28th anniversary, we are offering some great specials including Free delivery of this RTX 4090 gaming PC to Adelaide, Brisbane, Cairns, Canberra, Gold Coast, Hobart, Launceston, Melbourne, Perth, Sunshine Coast & Sydney. Cheap delivery to Darwin and other regional Australia
Network
Intel  2.5Gb Ethernet / LAN / Network (fastest in its class)
Show More
Connect your RTX4090 Gaming PC directly to your Modem or Router using a network cable for Internet connectivity.
Show More
2 x USB 3.2 Gen 2 ports (2 x Type-A )
4 x USB 2.0 ports (4 x Type-A)
Front USB Port
2 x USB 3.0

Audio Ports
Realtek 7.1-Channel High Definition Audio
Show More
– Supports: Jack-detection, Multi-streaming, Front Panel Jack-retasking
– Supports up to 24-Bit/192 kHz playback
Audio Features
– Audio Shielding
– Premium audio capacitors
– Dedicated audio PCB layers
** A chassis with an HD audio module in the front panel is required to support 7.1 Surround Sound audio output.
Quality Assurance & Service
Show More
FREE Lifetime Phone Support
Fully Assembled & Tested
Ready to use
Post Sales Phone setup support
FREE Remote Login Support
Windows Installed and Updated
Latest BIOS Updated
Latest Intel ME Updated
48-Hour Test Bench PASSED
Full Manufacturer Warranty
5 Years Labour Warranty
FREE & FAST freight of this RTX4090 gaming PC to most metro suburbs in Australia including, Adelaide (South Australia), Brisbane (Queensland), Canberra (ACT), Cairns, Gold Coast, Hobart (Tasmania), Launceston, Melbourne (Victoria), Perth (WA), Sydney (New South Wales (NSW) & Sunshine Coast (QLD).
If you are in Darwin or Northern Territory (NT), we offer cheap freight to you – starting from $35
All our RTX 4090 gaming computers are properly packed with expanding foam to ensure that it travels safe and we offer free freight insurance as well.
RTX4090 Gaming PC – When only the best will do. Our Fastest gaming PC features nVidia's fastest gaming graphics card to date – GeForce RTX 4090. i7 CPU with option of i9 13900K . This is our best selling RTX4090 gaming computer. Our RTX 4090 Gaming PC can be fully customised to suit your requirements. Pre Built, ready to ship, ready to use or can be custom built to meet your gaming needs.
PC Name: RTX4090 Gaming PC
CPU: Intel Core i7-13700K (F) CPU
CPU Options: i9 13900K (F), i9 13900K

Motherboard: ASUS TUF Gaming Motherboard with Intel Chipset
RAM: 32GB Dual Channel Gaming RAM with Heatsink
Solid State Drive: 1TB Kingston KC3000 SSD
Graphics: 24GB nVidia GeForce RTX4090
Power Supply: 850 Watt ASUS TUF Gaming PSU
CPU Cooling: High Performance Tower Air Cooler

Free Shipping Most Metro Suburbs

Serving you since 1995

100% Reliable Customer Support

Multi Award Winning company
Frequently Asked Questions
RTX 4090 Gaming PC AUSTRALIA
Buying this fast pre built RTX 4090 Gaming desktop rig is very easy. Click on the "CUSTOMISE & BUY" button. Here you can fully customise this best RTX4090 computer to suit your gaming needs.
It can be custom built to include the latest 13th gen i7 13700K /F or the i9 13900K /F CPU.
Why buy RTX 4090 PC from Supertech Computers?
Supertech Computers is a Multi Award Winning computer company that has been supplying high quality new desktop computer packages since 1995.We are a 100% Australian owned and operated computer store.
We have over 27 years of computer industry experience, we have the knowledge and tools to build high quality computers at a cheap price. Being a Multi Award Winning PC shop, we pride ourselves on providing the highest level of customer service.
Also, we always have all our computers in stock and and if you want to pick it up then we can have it ready within 5 hours. We offer fast delivery all over Australia – generally delivered within 1 to 3 days.
Best Customer Service
For Supertech Computers, customer service and quality of parts is paramount. We will not compromise on quality just to sell cheap computers. We use Genuine Intel CPUs, ASUS or Gigabyte Motherboard, Kingston, Corsair, G.Skill RAM and Seagate or Western Digital hard drives.
At Supertech Computers we take the greatest care in every gaming PC we build. Our technicians check every detail before any of our desktop gaming computers are sent or picked up. All our high quality desktop gaming computers have to pass a series of tests for at least 48 hours before they are sent from our warehouse to our shops.
All our computers come standard with full manufacturer warranty, Free lifetime unlimited phone support and free remote login support.
Free Delivery
We offer free and fast delivery of this fast PC to most of Australia including suburbs in Canberra (ACT), Brisbane (QLD), Sydney (NSW), Melbourne (VIC), Hobart & Launceston (Tasmania), Gold Coast (Queensland), Sunshine Coast (Queensland), Adelaide (SA), Cairns (QLD) and Perth (Western Australia)
Our best RTX 4090 Gaming PC now has the option of the latest Intel 13th Gen i7 13700K /F CPU and the i9 13900K /F CPU.
What is the best RTX 4090 gaming PC
Our RTX 4090 PC is built using the best quality parts available to us. We use ASUS TUF Gaming motherboard, Kingston RAM and SSDs and nVidia GeForce RTX 4090. We are always in contact with Intel, ASUS and Kingston to help us build the best configuration possible. They supply us with vital inside knowledge & support to help us build the best RTX 4090 gaming computer in Australia. Our technicians are hard core gamers and are constantly testing parts. Most parts do not pass our test bench due to our rigorous testing procedures.
All images are for illustration purposes only. Specifications, pricing and promotions are subject to change without notice. Please confirm all details when placing the order. errors and omissions excepted.